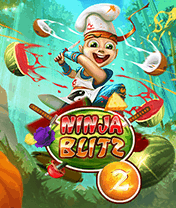 Added
: 15.04.2017

Downloads
: 1935

Vendor
: Baltoro Games

Description
:
The Ninja is back! Meet Bob and follow him on his journey around the
world, while becoming the fastest Ninja and best cook. 5 completely new
locations are waiting for you: prepare delicious burgers, fruity
cocktails, hot Mexican meals, tasty pizza and mouth-watering French
cuisine – all by slicing fruits, vegetables and other fresh ingredients
with your finger. Learn and master all six special ninja skills to
further enhance your gameplay and increase your highscore. Never touch
any bombs!
The game's characteristics and screenshots may vary according to the model of your phone.

Nokia 5200 (
128×160
)

Nokia 6280 / 6300 (
240×320
)

Nokia Asha 305 / 308 / 311 (
240×400
)

Nokia C3-00 (
320×240
)

Nokia N70 (
176×208
)

Nokia 5800 Xpress Music (
360×640
)

584.1kB